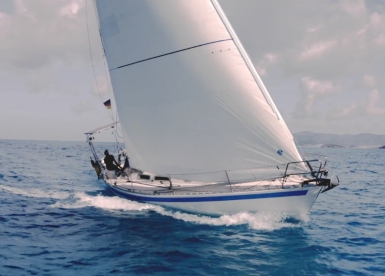 North Sails new product, moulded sails, is built on the success of the company's 3Di NORDAC polyester for smaller boats and its OCEAN 700 superyacht cruising sail.
3Di OCEAN 370 sits between those two products to meet the needs of cruising boats in the 35-60ft range for both monohulls and multihulls.
The moulded sails use patented sail technology shaped on three-dimensional moulds that were originally developed for racing.
"Our company culture is driven by an innate desire to continually develop sail technologies that allow sailors to have a more enjoyable experience," said North Sails president Ken Read.
"Cruising offers an outlet to escape life on land and the North Sails commitment to the cruising community is stronger than ever.
"We front-footed our cruising product development and brought forward almost a year the expansion of our product line. We're looking forward to having more sailors experience the next level of cruising sail durability and performance with the 3Di OCEAN range."
3Di NORDAC dates from 2017 when they combined the use of Dacron 3Di tapes and three-dimensional moulds to develop a cloth that maintained the traditional look of Dacron sails.
The 3Di concept was taken into the superyacht arena in 2018 with 3Di OCEAN 700 for larger yachts whose owners were looking for improved handling and long-lasting sails.
The 3Di moulded sails technology produces sails reduce heel in a breeze and add power in light air and the sails are seamless.
Read another article: North Sails completes its transformation from 3DL to 3Di