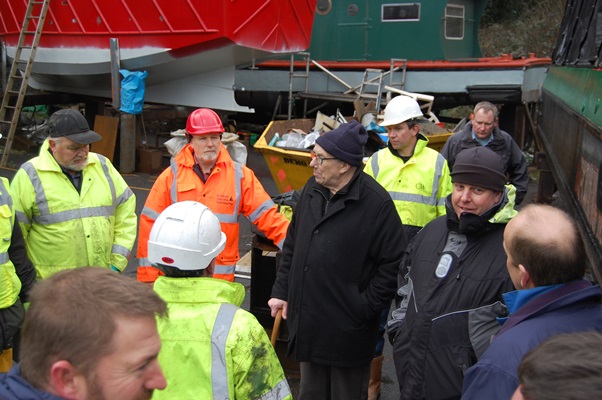 A group of 20 plus IIMS members and non members braved the worst that storm Imogen, which was blanketing the south of the UK on Monday 8 February, could throw up for the first small craft training day of the year.
The group met at a hotel in Watford just a stone's throw from Ralph Kitts's yard, P&S Marine, where the afternoon's practical use of ultrasonics testing equipment took place.
John Excell, IIMS Chairman of Small Craft Surveying, welcomed guests and scoped out the day ahead. He introduced veteran marine surveyor, Jeffrey Casciani-Wood, who put his many years of experience to good use as he gave a detailed and invaluable presentation about the theory of ultrasonics, what to do and what to avoid. The most important point Jeffrey made was to remind surveyors that an ultrasonics test must never take the place of a hammer test and the two should go hand in hand with each other for the best and most accurate results.
Jeffrey's presentation was followed one from Jon Sharland from Tritex NDT Ltd. In his talk, Jon spoke about how to use the ultrasonics equipment, the types of couplants that can be used and some of the pitfalls to avoid.
After lunch, the group headed over the road to P&S Marine. They spent a couple of hours playing with and using Jon's testing kit as well as their own. Jeffrey was on hand to give an overview of the various vessels and their condition that were available in the yard.
IIMS would like to thank the following for helping to make the day a great success:
Ralph Kitts of P&S Marine for allowing IIMS to use his yard and facilities;
also to Jeffrery Casciani-Wood for delivering the morning's theory presentation;
Alan Broomfield for providing the equipment and;
Jon Sharland of Tritex for giving a demonstration and then allowing all present to play with his gauges.
Don't forget to keep 24 October 2016 free for the small craft 'super training' day to be held at a venue on the south coast. More details nearer the time.