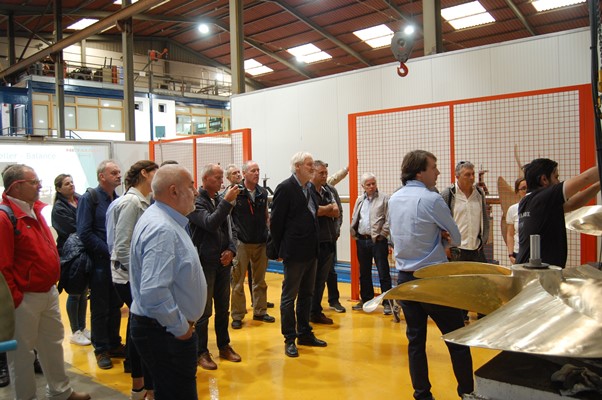 The annual IIMS Western Mediterranean Large Yacht & Small Craft Working Group training event took place in Palma on 26-27 April and attracted 18 surveyors, proving to be a great success. As well as local Mallorca based IIMS members, others had travelled from Portugal, Ireland, mainland Spain and France to take part in the event.
On the first morning, the group travelled by bus to the METALNOX facility in nearby Calvia. METALNOX staff explained how they repair and recondition propellers and check and repair shafts. Surveyors were given a demonstration of the Prop Scan software that is used to optimise propreller performance.
After lunch, the group headed into the classroom for three presentations. First to speak was Karen Brain, Matrix Insurance, who talked about the various types of insurance a surveyor should consider.
Phil Duffy talked knowledgeably about surveying superyachts and in particular some of the key survey differences between looking at vessels above and below 24 metres. He stressed the importance of making the initial written quotation process a highly professional one.
Bob Hoghton spoke about Mini ISM and explained the history behind how and why the international safety management code was developed and became necessary. He talked about its use in larger yachts and how it is applied.
The group joined for dinner at the evocative Celler sa Premsa in Palma.
On the second day, surveyors met inside the superyacht show as Mike Schwarz, IIMS CEO, gave a verbal update on head office matters and developments.
The group then headed out to spend the morning as guests of Oscar Sierra, one of the largest, specialist providers of marine safety equipment in the Western Med at their unit by Palma airport. To start with, the group was shown how fire extinguishers are serviced, including being repressurised and refilled. Moving across to the other side of the facility, surveyors observed some of the staff actively inflating life rafts to check pressures and to ensure the seams and stitching were in good order as part of the servicing regime.
IIMS would like to thank the following people who helped in the staging of this event:
John Walker for coordinating the event planning locally and his colleague Francisco for his IT skills.
Presenters Karen Brain, Bob Hoghton and Phil Duffy.
The organisers of the Palma Superyacht show for allowing us complimentary entry and meeting space.
Brian Kernaghan and colleagues at Oscar Sierra.
Gaston Dubois and colleagues at METALNOX.