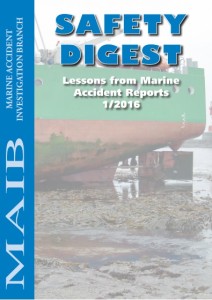 The UK MAIB Safety Digest 2016 has been published, which includes lessons learned from maritime accidents. This latest edition of the MAIB Safety Digest contains 25 short articles that give examples of poor risk awareness demonstrated by the crews of vessels. The publication highlights that a cautionary approach should be second nature to every seafarer and those who engage and interact with shipping and vessels of all types.
This MAIB Safety Digest draws the attention of the marine community to some of the lessons arising from investigations into recent accidents and incidents. It contains information which has been determined up to the time of issue.
This information is published to inform the shipping and fishing industries, the pleasure craft community and the public of the general circumstances of marine accidents and to draw out the lessons to be learned.
The sole purpose of the MAIB Safety Digest is to prevent similar accidents happening again. The content must necessarily be regarded as tentative and subject to alteration or correction if additional evidence becomes available. The articles do not assign fault or blame nor do they determine liability. The lessons often extend beyond the events of the incidents themselves to ensure the maximum value can be achieved.
Steve Clinch, Chief Inspector of Marine Accidents says in his letter of introduction:
"Regular readers of the MAIB Safety Digest will be aware that I often write about the poor risk awareness demonstrated by the crews of vessels which feature in MAIB investigations. I make no apology for repeating myself. A cautionary approach should be second nature to every mariner about to start a task or embark on a course of action on the bridge, in the engine room or on deck."
"It doesn't matter whether you are sailing on a large commercial vessel, fishing boat or small leisure craft; taking the time to ask oneself "what can go wrong?" and then making sure bad things can't happen before committing yourself to, for example a change of course or, an entry into a confined space is clearly a sensible thing to do. Sadly, MAIB Safety Digests contain many examples where this simple lesson has been forgotten or ignored – this edition is no exception."
One case describes an accident in which a passenger drowned in the pool of a cruise vessel. In that accident, there was also no lifeguard poolside. Another case details how a failure to properly understand the risks of opening a main sea water line, or take appropriate measures to ensure the planned task was executed safely almost resulted in the loss of a ship.
Find out more by reading the document in full: MAIB Safety Digest