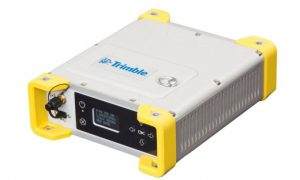 Trimble has announced the MPS865 marine positioning system multi-frequency and multi-application GNSS receiver.
The Trimble MPS865 is a versatile and rugged GNSS positioning and heading solution for a wide variety of real-time and post-processing applications for marine survey.
It features integrated communications options such as Wi-Fi, UHF radio, cellular modem for internet connectivity, Bluetooth and MSS satellite-based correction channels.
The patented GNSS-centric technology uses all available GNSS signals to deliver reliable positions in real time. The GNSS receiver provides for the connection of two GNSS antennas for precise heading.
With a modular form factor, the MPS865 is flexible and can be used as an integrated on-board rover receiver, a base station, or a continuously operating reference station. The built-in precise heading feature ensures the receiver is of minimal size, consumes less power, and has less cabling which are all benefits when on-board space it at a premium.
The MPS865 adds new features to improve usability in a congested marine construction site – multi constellations, cellular connectivity and beacon support. The multi-constellation option maintains productivity in marine sites or when antennas or satellites are partly obstructed.
The MPS865's design enables a broad range of mounting capabilities and built-in communication options. Features include an internal removable battery, internal memory and optional accessory kits for specific applications.
The weatherproof, high-impact-resistant moulded aluminium housing protects it in extreme marine conditions or base-station applications.
"With the addition of the MPS865 receiver to our portfolio, Trimble has introduced a new generation of rugged, compact and feature-rich GNSS, a solution the marine industry has been needing for some time," said Scott Crozier, general manager of Trimble's Civil Engineering & Construction Division. "This highly flexible and capable receiver can be combined with our marine construction software providing contractors with a market-leading solution for any marine survey or construction application."