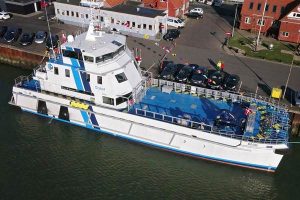 Tasmanian high speed catamaran designers Incat Crowther recently announced the delivery of the 39m Multipurpose Crew Transfer Vessels 'MHO Gurli' and 'MHO Esbjerg'.
The vessels were built by PT Bintang Timur Samudera in Indonesia and delivered to MH-O & Co to be operated in European waters for Orsted in their Hornsea Project One offshore wind farm.
The vessels, designed by Incat Crowther, are the largest Wind Farm Support Vessels to enter service to date anywhere in the world. They draw on Incat Crowther's experience with larger offshore fast catamarans operating in the oil and gas industry.
The platform was specifically designed to deliver exceptional seakeeping, stability and comfort, whilst accommodating a highly redundant quad-engine / quad-jet propulsion package.
Continue reading "Windfarm crew transfer vessels are getting larger"