The Clipper Round the World Yacht Race is the longest ocean race on the planet and is open to everyone. Now approaching its tenth anniversary edition, what does it take to complete the extreme challenge; and more importantly what are the refit and engineering challenges that go on behind the scenes to ensure the fleet is fit for purpose?
"There is nothing like the intensity of running along the top of a wave in the Southern Ocean and deciding to turn down the front of it into chaos. We ran on adrenaline for days on end."
Round the world crew member and company director Peter Brumby, 50, left his job before the race, swapping it for the thrill of taking on Mother Nature's toughest conditions for a year. Sailing through hurricanes, waves the size of several houses and facing threats of cyclones, pirates and icebergs were all part of life on board his team's yacht Qingdao.
The team experienced a lightning strike in the North Pacific, helped another Clipper Race yacht during an urgent Mayday mission and narrowly missed a waterspout. Other teams dealt with medical evacuations, a Man Overboard rescue, knockdowns and a tornado. An endurance test like no other, the Clipper Round the World Yacht Race is 40,000 nautical miles long, takes almost a year to complete and is the only global race of its kind for Corinthian sailors.
The ocean odyssey was conceived by Sir Robin Knox-Johnston, the first person to sail solo, nonstop round the world in 1968/9. He created the Clipper Race to give everyone the chance to experience the thrill of ocean racing. No previous sailing experience is necessary to take on the challenge as full training is provided. Organisers supply a fleet of twelve identical racing yachts and a fully qualified skipper guides their non-professional crew.
Up to 40 per cent of crew members have never sailed before they sign up. They come from all over the world and include everyone from midwives to chief executives, lawyers, actors, doctors, students and many more. Divided into eight legs which include a series of individually-scored races, crew can choose to complete the full circumnavigation or one or more of the legs that are around five to seven weeks long each if you have limited time. The full circumnavigation round the world visits nine countries on six continents. Stopovers take place in ports including Sydney, New York, Rio de Janeiro, Cape Town, San Francisco and Singapore.
"To become a Clipper Race crew member is to become part of a very special club of people who share a thirst for adventure and challenge," Peter continues.
"More than 3,000 people have taken part in the Clipper Race since the first edition in 1996 but still more people have climbed Mount Everest than have circumnavigated the globe.
Often it was tough and uncompromising but always rewarding. The Roaring Forties in the Southern Ocean was amazing. The high seas, waves over the deck constantly and the speed of the boat as it dives down the waves creating huge jets of water either side of the boat was incredible. At night it was just plain scary. The noise of the wind, the jets of water and the breaking waves completely dominate your senses. I was constantly cold and damp. It was completely dark – whatever moonlight available was demolished by deep cloud cover. You were sailing by braille and certainly needed to trust your fellow crew.
The journey of highs and lows we went through as a team was incredible. Overall it was an amazing year and totally different from your normal travel experience."
– The countdown to the 2015-16 tenth anniversary edition is on, with the race starting on 30 August from the UK.
– There are still places available on most legs including on Leg 4 – the All Australian leg – which includes offshore classic the Rolex Sydney Hobart Yacht Race as part of circumnavigation. This sees the Clipper Race crews pit themselves against some of sailing's biggest names in the Boxing Day event which leaves from Sydney Harbour with massive crowds of spectators.
What it takes to keep the fleet sailing: Refitting the Clipper 70s
After each of the 12 Clipper 70s clocked up an average of 50,000 miles during their inaugural circumnavigation, the Maintenance Team at Race HQ has been hard at work since October 2014 to refit the yachts in preparation for next edition.
Each of the 70-foot yachts is motored from Race HQ in Gosport to Hamble Yacht Services where they are lifted and refitted. The yachts are stripped of their inventory and soft furnishings, which go off for cleaning prior to departing Gosport, and their engines and generators are serviced. On arrival in Hamble, the masts are removed and all of the standing rigging is replaced. Once washed off and in the shed, there is a complete sand and repaint throughout the interior and a varnishing of the wood surrounds in the galley. On deck, all of the kit is serviced or replaced as needed. Rudders are dropped in order to check the shafts and blades and to allow access to service the rudder bearings; the full steering system is given an overhaul. The hulls are antifouled, propellers serviced and anodes changed.
As with all refits, there will also be some changes to the yachts in accordance to lessons learnt from the past race. New parts will be fitted in various places around the yacht and a little reorganisation made here and there in order to make life easier for the crew, and from a maintenance perspective. After four to five weeks, the yachts are then launched off and returned to Gosport for re-commissioning. Final defects are rectified, the inventory and safety kit are reinstated, final checks are made and the paperwork is reinstated. Lastly the rig is retuned before the yachts return to service and crew training continues. The refit period lasts nine months, with each yacht out of action for eight to nine weeks in total, before being declared fit and ready to be called home for the next generation of ocean racers.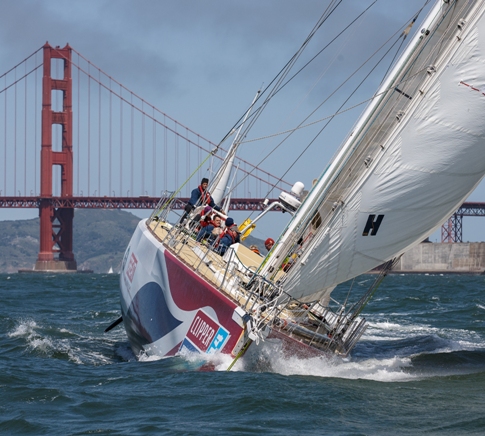 Meet the 'Chief' who keeps the fleet sailing
From rotten fish inside engines to shark bites damaging rudders and Australian cockatoos destructing masthead wind instruments, Clipper Race maintenance manager Jay Haller has seen it all.
The South African has worked on some comical mishaps as well as more serious repairs for six editions of the Clipper Race over 12 years. 'The Chief' as he is known can always be seen with his team waiting to leap on board as soon as the boats start arriving in port. Under fleet operation manager Simon Johnston, Jay leads his shore crew assisting on all kinds of technical issues.
As a child, Jay always loved tinkering with toy trucks and model boats and a career as a specialist technician beckoned. After completing his National Service in South Africa in a medical corps, Jay did a college apprenticeship in engineering. He then went to Antarctica for an adventure as a technician with machinery company Caterpillar, representing the South African government to help build a new research post. It was when he started working for holiday company Sunsail in 1995 that Jay learnt to sail. He worked as flotilla engineer and then as a skipper in Greece, Turkey and Croatia and soon fell in love with the lifestyle. He met his English wife Lynda in 1996 when she was working on a flotilla. After a season on America's Cup boats France 2 and France 3, Jay joined Clipper Ventures in 2002.
"Once you get onto a boat it's addictive. No day is ever the same. I could never be stuck in an office," he says.
"It is more of a lifestyle than a job and I have loved meeting so many like-minded people round the world. When a crew member sees you coming with your tool kit and know you'll fix it, it's a good feeling when you fault-find the problem straight away and know they will be very relieved. You can't say it can't be done. There is always a way. The crew have a certain expectation. The pressure is huge – more so this race than ever before."
Jay says the Clipper 70s held up very well during their first race.
"The rudders caused a lot of problems which we quickly resolved, but there are always teething problems with new boats if you look back at the Clipper 68s. It was a big challenge when we had to take the keels off the Clipper 68s in the Philippines during the 2005-06 edition of the race and the whole fleet had to stay there for seven weeks. A boat had to be rebuilt in Cape Town in 2009-10 edition of the race after a t-boning on the start line. I was chuffed after fixing the boat quickly and all we could do was look back and laugh. It's always a challenge trying to work around the corporate commitments and juggle that. You always worry they won't be ready to sail but they have to be. We do 14 hour working days to make sure they are."
Jay says he didn't believe Olly Cotterell, the skipper of OneDLL, when he told him his boat's rudder had been bitten by a shark on Race 8 to Singapore in last year's edition. However, on inspection, a foot and a half-long bite and even shark's teeth were discovered – a first for Jay in his career.
He says his biggest ever challenge was during the 2002-03 edition of the race when a skipper had started the generator without doing the engine checks which pumped all the oil out. Jay got an engine flown in from the UK to Batam, Indonesia, and fitted it in 45 minutes.
During the 2009-10 Clipper Race he had to rebuild an engine after jumping on the boat 11 miles out of Singapore after the pistons went in 40 degree heat.
When not fixing things, Jay and his wife like to camp around Cornwall and will be staying in a yurt on their latest holiday. He enjoys hiking, museums and culture, including seeing the Southampton Philharmonic Choir perform, and as a South African, loves barbecuing. Jay remembers looking at the Whitbread round the world boats in the early nineties and adds it is very satisfying to know he is now part of the team that helps get the Clipper Race yachts round the world now.
"It's great to see the public astounded when they see the boats and you know you are part of the team. I am very proud and love it when they ask questions. Mingling with the crew members is also a highlight. I have a great team around me and know I can rely on them to get on with the job at hand. We are very close outside of work as well and that is important when you are working such long hours abroad away from family. It is a very satisfying job and seeing so many cultures around the world has been amazing."
Life at the top: Meet Clipper Race Rigger Greg North
"My office is 90 foot up, but after nine years I don't feel apprehensive or worry about falling. I get my tools, put my headphones in and work away. There is nowhere better to be than at the top of the mast somewhere sunny. I've never wanted to be stuck at a desk pushing paper."
An extreme sports fan, Clipper Race rigger Greg North originally looked at a career in forestry and ranger work because of the climbing and heights aspect of the job.
Following a degree in Sustainable Design and Environmental Management at the University of Portsmouth, a friend set Greg up with some maintenance work, antifouling a Clipper Race boat in 2005. That job led to more, and he continued his work on the main-tenance team for the next month.
"The 'Chief' [maintenance manager Jay Haller] hugs the rig like a koala when he has to go aloft, he's not a big fan of heights, whereas I enjoy climbing so I naturally stepped into the role working up masts. My first stopover experience came in China on the 2005/06 race. Since then I have been a permanent member of the race team."
Greg assisted a spar manufacturer and riggers fitting out the Clipper 68s and learnt how to fit and tune rigs, and build masts on the job. His most amusing, yet frustrating moment came in Sydney on the Clipper 2013-14 Race in an incident known as CockatooGate, which was hilariously documented on the front page of national broadsheet, The Australian. Flocks of cockatoos decided they had an appetite for the wire in the masthead instruments and chewed their way through hundreds of pounds worth of material, rendering the speed devices useless.
"CockatooGate got me angry with the local wildlife," Greg reflects. "We were already very busy changing elements of the coding ahead of the Rolex Sydney Hobart Race and the fleet had to also come out of the water for antifouling."
"As soon as I told a local sailor about what had happened, he said, 'That will be those bloody Cockies'. They have an appetite for expensive mast wiring. You could see the beak snips. But suspiciously, the only Clipper Race boat with an Aussie skipper did not get chewed!"
Once all the wiring was re-spliced, Greg had to rush around with his spanner hitting the mast and sending a shock up the rig whenever he saw a cockatoo flying towards a rig. Even Christmas tinsel and cable ties failed to stop the birds having a go.
His most challenging work times have come after boats have lost the rig. "The worst thing is to get that call saying a boat has lost its mast. When you hear everyone on board is safe you relax a little, but knowing you have to build a new rig and set it up against the clock is quite daunting."
When two rigs came down in the 2007/08 race, the whole fleet came into Hawaii as a diversion.
"We had to fly two new masts out to Hawaii and build them as quickly as possible, then change some of the standing rigging on the rest of the fleet. Then you have to tune the rig, test it out sailing, and re-tune until you are happy."
"We were working solidly for a month doing 12-hour days. I was sat at the top of the mast wondering when it was going to end, when I saw a humpback whale breaching. Not everyone's office has that type of view. It made me stop and appreciate the positives of the situation."
Another big job came after a collision on the start line in Cape Town in the 2009/10 race.
"The 'Chief' called me with the news as I was packing up the container to say keep hold of the fibreglass kit."
"He then called me back shortly after saying he could step through the hole in the aft quarter of the damaged boat, it was that big. That was a massive fix. We worked with a local composites crew day and night to rebuild it."
Another memorable moment came when lightning struck Qingdao in the Pacific Ocean on the 13-14 race. The top of the masthead instrument blew up and what was left disintegrated into a stick of carbon, causing hundreds of pounds worth of damage. Greg had to re-wire and re-fit new instruments to the yacht in San Francisco.
Greg and the other Clipper Race maintenance team members are fondly known as the 'Blackhand Gang'.
"We are a good cheerful team," adds Greg. "It is amazing to work with the 'Chief'. No one knows their way round the fleet like he does."
"You also get good friends with the crew and build a rapport with the mechanically minded ones who are interested in the yacht's running."
For Greg, the non-race year is almost as hectic as the race year while the boats are in refit. All the masts will come off the Clipper 70s and all running and standing rigging gets replaced – several kilometres of wire rope will be used during that process. Then the fleet has to be re-tuned several times as the wire settles in. In his downtime, Greg likes to head inland to the mountains to snowboard, hike and mountain bike with his wife Charlie. In October 2014, the couple's first baby was born. Greg says this last race saw new challenges with the new Clipper 70s. There were maintenance issues he had not seen before.
The skippers' competitive nature on the matched fleet race keeps him on his toes too. "There can be a lot of pressure trying to juggle skippers' expectations. I have to make sure the rig set up is as close as possible throughout the fleet for both safety and scrutineering." The challenges of each race aside, Greg's philosophy remains the same. "Every day is different. It can be long, hard hours but I'd rather be doing that 90ft up in Australia or Hawaii than behind a desk any day," he adds.