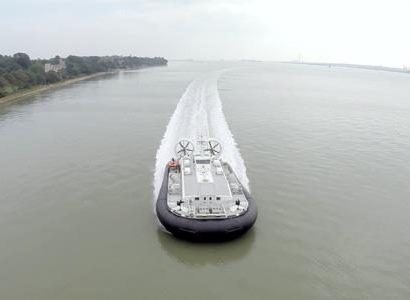 Heating, ventilation and air conditioning specialists, Dometic Marine, have supplied a custom made air cooled system for the Griffon Hoverwork BHT 150 – the largest hovercraft to be manufactured in the UK since the 1970s.
The 30.8-metre craft, which was recently delivered to South Korea for use by the Korean Coast Guard, has been fitted with Dometic's air-cooled DuraSea Condensing Units. According to the brand, the new unit is an optimal solution for hovercraft, which are vessels that can be difficult to cool with normal marine air-conditioning.
The BHT 150 was designed by Griffon Hoverwork to cope with the extreme temperatures in the region, ensuring a suitable environment for crew and machinery, and minimising craft downtime.
Collaborating together on the project, Dometic and Griffon Hoverwork, global leaders in the design and manufacture of hovercraft, created a customised version, which includes bespoke pods.
Aimed at vessels not suitable for water-cooling, Dometic stated that the DuraSea Condensing Unit is the only air-cooled condenser developed for marine use. It provides cooling for on board spaces and is suitable for deck or rooftop mount.
Steve Morris, director EMEA – technical and sales application division, Dometic said, "Hovercraft are particularly challenging craft on which to install air-conditioning equipment, so we are very pleased to have developed this solution for the Griffon Hoverwork BHT 150 which can be applied to this type of vessel across Europe and the world.
"The craft have no ability for water pick-up, so the air-conditioning system must be air cooled. However, a normal air-cooled condenser will not survive the salt conditions. Our DuraSea range of air-cooled units are designed for exterior installation and engineered for exceptional resistance against salt water intrusion and corresponding corrosion experienced in harsh marine environments.
"We believe hovercraft manufacturers will find our air-cooled equipment the perfect solution."
Delivered for use in the Incheon region for border patrol, search and rescue and airport crash rescue, the BHT 150 craft has a crew of 12 and can carry 188 passengers at speeds in excess of 40knots with a 1m-obstacle clearance.
The hovercraft is the most suitable vessel for the water conditions and environment of the Yellow Sea, with its large areas of shallow water and wetland that freezes in the winter months.
Adrian Went, managing director of Griffon Hoverwork said, "Our customer is really pleased with the performance of the Dometic system on board the BHT 150 Hovercraft – a craft which is a fantastic example of British engineering. Dometic provide us with exceptional technical support on all projects, which is why we trust them to supply and customise equipment for our projects."