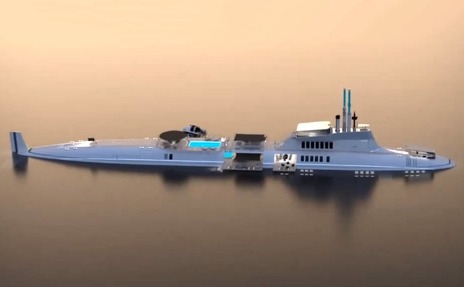 Austrian based company, Migaloo Private Submersible Yachts, has created multiple five submersible yacht concepts that could change the yachting landscape all together forever.
Migaloo currently has five models available that can be customised according to the owner's preference. The range in size from 236.3 feet to 928.4 feet LOA. The submersibles wuill be built according to class, flag and in accordance with US Navy Subsafe safety standards. All models have modern acrylic pressure hull designs to ensure optimal safety for all passengers and crew onboard.
Here is an example is the technical specification for the 135 metre Migaloo private submersible yacht code named the M5 and some of the possible features an owner might choose.
The M5 platform provides up to 3 large viewing galleries (salon, dining, bow lounge) and is completely open to any individualisation.
Possible features and amenities include:
Heli pad, wet garage for 2 mini-subs (11 metres) and 2 dry hangars for tender and toys, outdoor pool/jacuzzi, gym, spa, cinema room, games room, wine room, library, elevator, several bars and semi outdoor lounges and beach clubs, interior layout and GA according to the owner's wishes.
Accommodation
Owner's apartment: 300 sqm on 3 floors including private bow terrace
6 VIP suites: each 65 sqm on 2 floors
Guest and crew: the M5 can be configured to accommodate 16 crew, 2 officers, 1 captain, 12 guests and 2 owners, a total of 32 people.
The Migaloo M5 submerged endurance is up to several weeks.
Main dimensions and propulsion
Length over all (LOA): 135 metres
Beam: approx. 16 metres
Draught: approx. 7 metres
2 x MTU gensets
2 x Rim Drive propulsors
2 x 1200 kW, Li-Ion-Batteries
Technical development by Starkad Technologies OÜ.
The price for all this luxury and innovation? Well that would be telling. Contact the company by email directly.