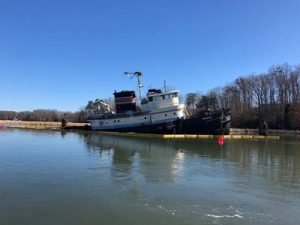 The NTSB has published its 94 page Safer Seas digest annual report giving an overview of key lessons to be learned from a series of major maritime casualties.
NTSB has noted that many of the issues in last year's report were recurring topics, including fatigue, poor bridge resource management, and distraction. The 41 marine accidents included in the report involved allisions, capsizings, collisions, fires, explosions, flooding, groundings, equipment damage, loss of life, injuries, and significant property damage.
The failure to maintain watertight integrity was the number one cause of vessel losses during the 2017 reporting year. Consequently, NTSB advises owners:
– To conduct regular oversight and maintenance of hulls and watertight bulkheads, even during layup periods.
– Oversight should include monitoring the hull thickness, maintaining sufficient marine coatings, and using cathodic protection systems.
– Known issues with watertight integrity and wastage need to be repaired using permanent means.
– Bilge piping and pumps should be in good working order and alarms should be tested regularly.
– Watertight doors should be checked and maintained to ensure they are properly sealed when closed. While under way, all watertight doors should be closed at all times.
Read the 94 page Safer Seas Digest: NTSB-Safer-Seas-Digest