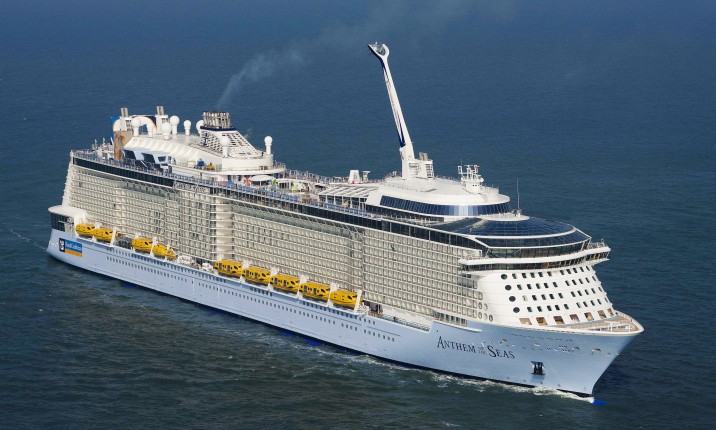 Meyer Werft has delivered the 168,600-gt cruise ship Anthem of the Seas to the US cruise operator Royal Caribbean Cruises Ltd.
The second ship of the Quantum class sets new standards in terms of eco-friendliness. It features highly energy-efficient systems, optimised hydrodynamics, heat recovery, an effective underwater paint coating, a state-of-the-art exhaust gas treatment plant (hybrid scrubber) as well as energy-saving LED lighting systems.
Sophisticated alarm, safety and communication systems combined with the latest technology in propulsion and navigation are typical for Royal Caribbean cruise ships. The same high standard applies to entertainment and interiors.
The theatre is equipped with stage technology which has yet to find its peer ashore. Relax with a book at "Two 70°" and come back at night for a spectacular aerial show. The North Star on deck 17 allows the guests to travel in a glass gondola at a height of 90 m above sea level where they can enjoy a 360-degree panoramic view. On deck 17 aft the RipCord simulates parachuting at sea both for beginners or seasoned parachuters. Surf aficionados may want to look for the perfect wave high above water level on the FlowRider on deck 16.
As to interiors, the Anthem leaves nothing to be desired. 4,180 guests can be accommodated in 2,090 cabins, and are taken care of by a crew of approx. 1,550. On board of the Quantum-class ships the traditional main restaurant has been replaced by dynamic dining, where the guests rotate in five different restaurants which are included in the cruise rate, and which offer a wide culinary variety. All told, the guests can choose from 18 restaurants on board, among them Jamie's Italian, the first restaurant at sea of the British chef Jamie Oliver. Plenty of shops, bars, lounges and spacious spa and wellness areas as well as spectacular open-deck areas and facilities offer endless pastime opportunities. "Seaplex" features the largest indoor activity area at sea that offers entertainment like bumper cars, roller skating, a competition-size basketball court as well as a circus school.
The "Two70°" stretches from deck 4 to 6, a spacious area offering a 270-degree panoramic view of the sea. The "Two270°" combines entertainment and technology which allows the guests to travel smoothly from day to night.
The Anthem of the Seas is another milestone by Royal Caribbean that will create a "wow" effect among its guests. The ship will depart from Bremerhaven to Southampton on 14 April 2015. Emma Wilby, travel agent, from Sunderland, U.K., is the Godmother for the world's newest and most advanced cruise ship Anthem of the Seas. Upholding a timeless maritime tradition, Ms. Wilby will officially christen Anthem of the Seas and perform a special song for more than 1,300 invited special guests and dignitaries at the ship's inaugural ceremony in Southampton, U.K., on April 20, 2015.Designed to revolutionize the industry, Anthem of the Seas will sail its inaugural season from Southampton before the ship repositions to its permanent home port of New York in November.