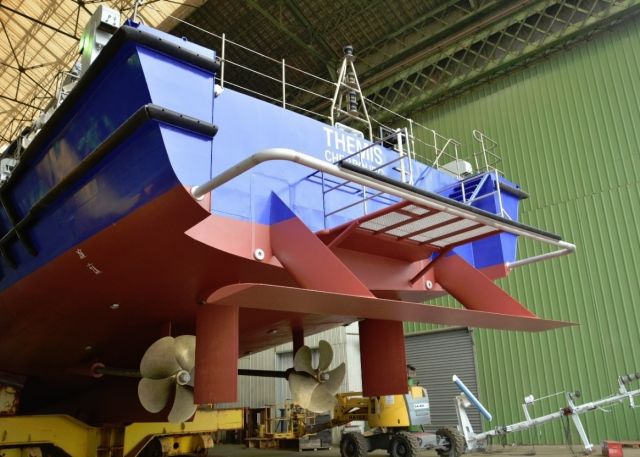 Two new developments from a Dutch naval architect will make its range of hull resistance reducing foils suitable for a larger number of vessels.
The Hull Vane was developed by Dutch naval architect Piet van Oossanen back in 2014 and has been fitted to over 20 vessels so far with a 50% split going to leisure vessels and the other half being fitted to offshore patrol vessels. The Hull Vane is a transverse hydrodynamic lift foil that is attached to the transom of mainly semi-displacement hulls where it serves to improve the efficiency of the hull by adjusting the trim resulting in improved performance and/or reduced fuel consumption as well as providing a more level ride.
Now, in an effort to expand the application of the Hull Vane, the company has produced a semi-custom Hull Vane that is designed for application to hulls between 10 and 20 metres. It is made from extruded aluminium and it is aimed at reducing the costs involved for these smaller vessels and to widen the market for the fixed hull vane. Hull Vane uses complex Computational Fluid Dynamics to analyse the water flow past the hull in order to optimise the size and location of the hull vane at the stern.
Another exciting development is the Dynamic Hull Vane which is claimed to be able to act as a pitch stabiliser. Whilst there are many roll stabilisers on the market for semi-displacement hulls a pitch stabiliser is a new development that should be a considerable benefit to a wide variety of workboats that have to operate in challenging sea conditions. To act as a pitch stabiliser the hull vane has to vary its angle in very quick time to respond to the hull pitch changes caused by head seas. To achieve this, Hull Vane has teamed up with Naiad Dynamics, a company that produces roll stabilisers and thrusters and who have experience of fin control systems. It is anticipated that the resulting dynamic Hull Vane will not only damp out the pitching movements of semi-displacement hulls but will also allow the hull to operate at a more efficient trim angle to match the prevailing conditions.