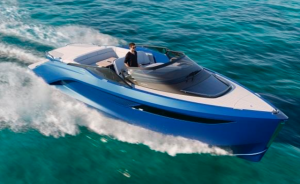 Princess Yachts' latest launch is its R35, a 100% carbon fibre craft whose hull weighs half a tonne less than a comparable GRP boat explained executive chairman Antony Sheriff.
The launch of the R35 follows on from the boatbuilder recording its highest ever revenue in the history of the company in 2017 and increasing the size of its workforce by 50% over the last two and a half years.
"Innovation, design, high levels of build quality and better perceived," said Antony. "it's all condensed into one boat, the R35. It's about beauty and comfort."
He added: "This boat is symbolic of the revolution that's happening within Princess. It's been a very exciting run over the last few years."
Around 20 R35s will be built each year, each using the latest technologies that have been developed through working with BAR Technologies.
"This boat is about what we're trying to do with Princess," said Antony. "It signifies what the future of Princess is going to be about."
"We'll see these technologies going across the Princess range."
And he said demand for yachts is outstripping production.
"We're very solidly profitable," he said. "We're being very cautious. "We're looking at the business over the long term. We've invested in facilities and infrastructure and have a five-year plan to spend £100m on new models and facilities."