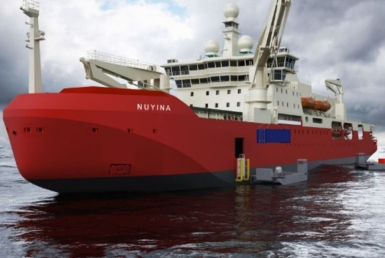 More than 8,600 tons of steel has now been shaped, welded and assembled into the hull of Australia's new icebreaker RSV Nuyina.
A few key pieces of the ship's propulsion system have recently arrived at the Damen Shipyard at Galati, including the propellers, propeller hubs and the sterntubes.
RSV Nuyina, will make her maiden voyage to Antarctica in 2020-21. The ship will be the main lifeline to Australia's three Antarctic research stations and its sub-Antarctic station on Macquarie Island, and will support Australia's leadership role in Antarctic and Southern Ocean scientific research. The ship is also flexible enough to cope with future research and operational demands during its expected 30 year lifetime.
The Nuyina is the only ship in the world to have a watertight room or 'wet well' to process seawater for krill and other fragile marine organisms, at up to 1800 litres per minute. Other
state-of-the-art scientific equipment includes acoustic instruments to map and visualise the sea floor and organisms in the water column, and instruments to measure atmospheric gases,
cloud properties, wave heights and ice conditions.
The following images show:
The blades of the propellers covered in a blue protective coating. Each propeller has four blades, made out of stainless steel and weighing about 4.5 tons each. The diameter of the complete propeller is 5.65 meters (18.5 feet).

This is a propeller hub on to which the blades are bolted. The hub is attached to the propeller shaft, which is the first section of the propulsion shaft line that extends all the way from the propeller to one of the two main engines. The propeller hub is made of nickel, aluminum and bronze and is 1.94 meters (6.4 feet) in diameter and weighs almost 21 tons, without propeller blades or oil inside. During operation the hub is filled with oil to actuate the variable pitch of the propeller.

The propeller shaft is installed within this sterntube, which is 12.7 meters (41.7 feet) long and fits inside the gondola. The sterntube is an important part of the ship's propulsion system because it enables the rotating propeller shaft to pass through the hull without water leaking into the ship. The sterntube will have a shaft seal fitted at each end and will be filled with fresh water that will be maintained at a pressure slightly higher than the surrounding sea water. This will assist the sealing effectiveness of the outer shaft seal. The water in the sterntube will also act as lubricant for the synthetic sterntube bearings.

Graphical representations of the propellers, propeller hubs and propeller shafts inside their sterntubes, once installed.