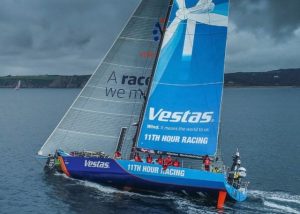 A new Volvo Ocean Race (VOR)-commissioned report has examined ocean racing at night in areas of high vessel traffic density to establish possible steps to mitigate risk following the death of a fisherman during the race.
The independent Volvo High Traffic Density Report follows the collision between Vestas 11th Hour Racing and a fishing vessel this January, in the final stages of the leg into Hong Kong during the most recent edition of the race. The crews recounted that virtually all the vessels had some form of lighting and exhibited AIS. The fishing vessels were either stationary or travelling at slow speeds of 3-6 knots and they did not form an impenetrable barrier.
Recommendations made in the report included use of an improved coax connector and antenna at the masthead for the AIS system and a new testing and monitoring regime for AIS performance; the provision of tailored training packages for the fitted, radar, AIS and navigation systems and their use in collision avoidance and replacement of the FMCW radar with a more appropriate technology for offshore racing.
More lighting
The report also recommended that Forward Looking Infrared (FLIR) be further investigated; an extra set of sidelights and a sternlight light be fitted near deck level; an all-round white masthead flashing light be fitted as an anti-collision warning and a set of lights be fitted on the upper spreaders to illuminate the top of the mainsail.
The report team found that the risk clearly depends on the level of congestion. The organisers should avoid some congested areas around the world and this is what VOR practices. Despite the accident off Hong Kong, the risk in those and similar waters is considered acceptable.
The report team also considers that the VO 65s were being sailed at a safe speed considering their manoeuvrability when sailed by a full professional crew.