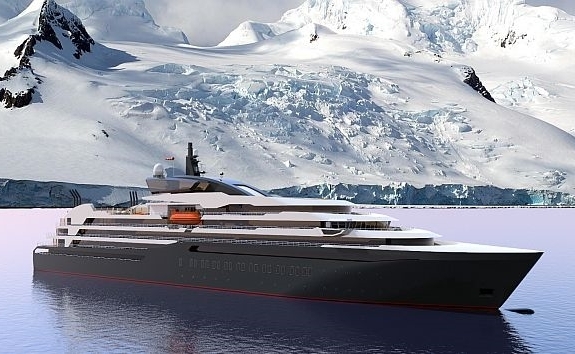 Shipyard De Hoop has engineered three luxury ocean going expedition cruise ships (150-200 passengers) in a move that combines its skills within both the offshore and river cruise market.
Says the chief executive of Shipyard De Hoop, Patrick Janssens, "It's the next logical step for us."
The project marks a first within the small cruise ship expedition market as there has never before been a dedicated newbuild expedition cruise vessel, Mr Janssens said. The norm is for ships to be converted to ice class to sail in expedition areas. "We are talking to companies about our concept and they are very interested, they see real market potential," he said
Indeed, the expedition market is growing, as Mr Janssens points out. "People are going on the large ocean cruises and the smaller river cruises and so slowly and surely a group of experienced cruisers is growing who want to see as much of the world as they can, and by converting research vessels for this market sector, you do not get the comfort that people are used to."
He singled out how Shipyard De Hoop was adept at meeting the requirements in this market: "People want an experience, so these vessels carry helicopters and small zodiac reefs that take people through ice and so forth. We are very well equipped to include such features, as we have learnt from the offshore market about putting smaller boats overboard and the logistics of lifting and unloading equipment carrying people between the large and small vessels safely." He points out that through the shipyard's river cruise work it knows about luxury cruise climate and noise control.
Asked what fuel the potential newbuilds would run on, he said that several options were being looked at, including diesel-electric and LNG.
About Shipyard De Hoop
Shipyard De Hoop was founded in 1889 and has developed into one of the most established yards of the Dutch shipbuilding industry. CEO Patrick Janssens, now the (sole) owner of the shipyard, also plays a key role in the day-to-day management as part of a board of three directors. At Shipyard De Hoop, the focus is on designing, engineering and building custom vessels, for both the inland and seagoing markets. Using a characteristic down to earth approach, we provide all Dutch built craft for niche markets.