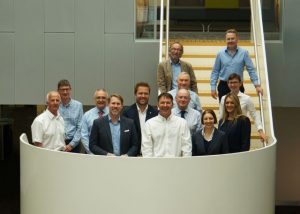 Oyster Yachts has formed a partnership with Lloyd's Register EMEA (LR) to secure a safety certification process to be implemented on all its new built yachts.
LR will approve the design, materials and build quality of all hulls and decks on Oyster yachts. To ensure compliance with LR rules, an LR surveyor will inspect all yachts in production once per week. As a result, all newly built Oyster vessels will carry an LR moulding certificate immediately upon completion. Oyster will become the only British builder of sailing yachts sub 24m to carry out this level certification.
Richard Hadida, Oyster's CEO, said: "It is incredibly exciting to be working with such an esteemed, globally recognised partner in LR, another great British brand. This third-party accreditation will assure all Oyster customers that their yachts are crafted in accordance with relevant international standards, particularly with regards to safety."
Oyster will secure quality control over the construction of its hulls through a new mould production facility in Norfolk, the first time this process has been brought in-house. The facility will provide more than 20 jobs in the area, as well as the increased capacity to produce five hulls at any one time.
The mould production facility is expected to open in September, with the first LR certified yachts to begin moulding in September.
"By bringing total control of our hull construction in-house for the first time, we not only continue to provide more jobs in the Norfolk area but also scale-up production capacity," explained Richard. "This is key to our growth plans as orders continue to increase. There are precious few smaller vessels with this level of certification and this is yet another way in which Oyster's yachts set themselves apart."