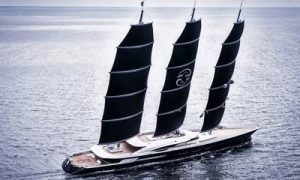 Dutch yard Oceanco has announced it has delivered its 106-metre (350-foot) sailing yacht Black Pearl, the largest sailing yacht in the world.
She is the result of a successful collaboration between an international group of designers, engineers, naval architects, builders, and project managers, with renowned designers Ken Freivokh Design, Nuvolari Lenard and Villate Design playing a significant role in her evolution.
Dykstra Naval Architects designed the three 70-metre (230-foot) DynaRig carbon masts and sailing system, which can be set or furled by pushing a button, setting the whole sails just in seven minutes.
BMT Nigel Gee also worked with Oceanco to create Black Pearl's hybrid propulsion system, as well as other on-board systems such as waste heat recovery.
The tri-deck sailing yacht is the realisation of a discerning owner, inspired by the design of the Maltese Falcon. Determined for it not to be a replica, they pushed boundaries in every area of the yacht, from her extraordinary rig to her cutting-edge power systems, green technologies and futuristic styling details.
Commenting on Black Pearl's innovative sailing system, Kev Freivokh said, "It's surprising to me that more people haven't jumped on the bandwagon with the DynaRig as it's efficient enough in most conditions, and it's so easy to handle and so safe. It's certainly great to see it further developed with Black Pearl."
Accommodation on board is for 12 guests split across six cabins, and her 15-metre beam allows for a total interior volume of 2,700GT.