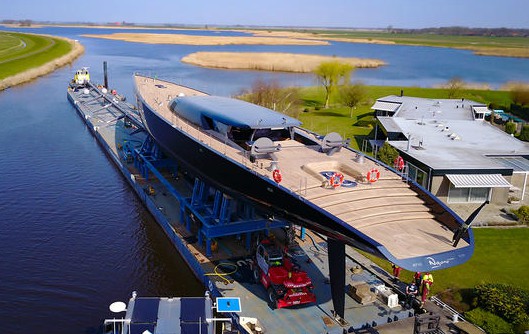 IIMS arranged a visit for a dozen members and non-members to the Royal Huisman superyacht yard in Vollenove, Netherlands on 6 and 7 April, followed by half a day's training on day two.
The yard visit, which had been planned for some months, was hailed a great success by those who attended. To see and understand at first hand the challenges and high skills required to produce these iconic craft was a privilege indeed.
Sadly the group had missed the launch of the stunning 58 metre Ngoni just the previous week. But this was more than compensated for when the group came face to face with another new build vessel in the shed of approximately 60 metres, perhaps 75% complete. Once on board and able to view at first hand the complex build, it was hard to pull the group away and all were enthused by what they had seen.
IIMS would particularly like to thank Sjoukje Russchen, PA to the Directors, for acting as the 'go between' to ensure the visit a success and Roemer Boogaard, Managing Director, for agreeing to the event; and for their hospitality and the time given up by other employees at the company. The group was treated to a lengthy and unfettered behind the scenes tour of the extensive facility and as well as seeing the new build project, also spent time viewing two refit projects.
After a delightul supper at local Restaurant Seidel (to be recommended) the group reconvened at the lovely old Hotel Landgoed Oldruitenborgh, close to the Royal Huisman yard itself. Mike Schwarz kicked off with a presentation on tips for business success. He was followed by Paul de Roock who spoke about the challenges of projecting managing from the surveyor's perspective. Ron Kleverlaan, a qualified Registered marine Coatings Inspector, gave a thoroughly insightful presentation on how to handle coatings surveys and inspections. The morning's proceedings were brought to an end by Prof. dr. Albert ten Busschen who spoke passionately about the re-use of end-of-life thermoset yacht building composites and the exciting work going on in this area.