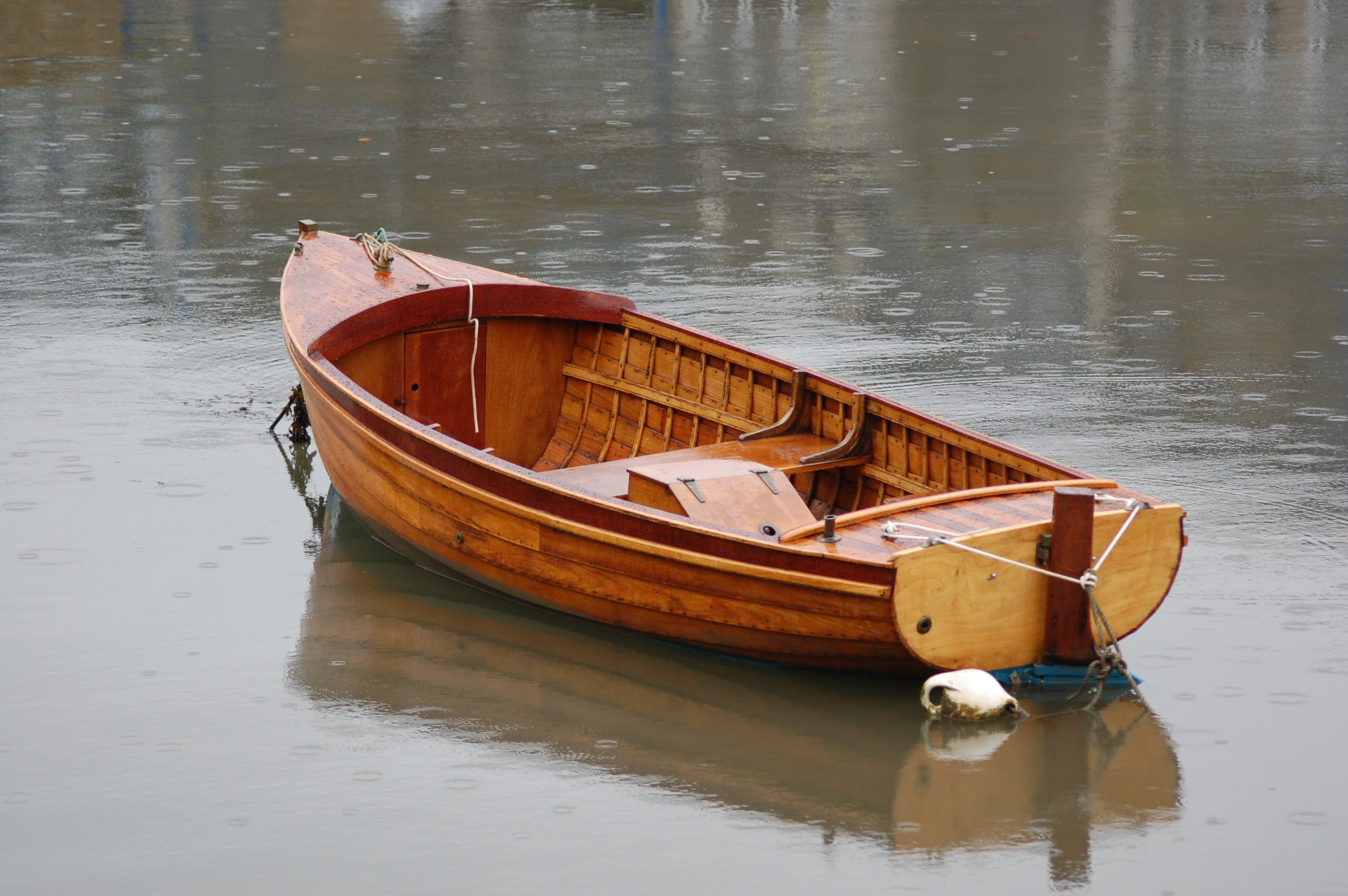 You are now considering how to survey wooden boats; whether you have been involved in the marine industry all your life or you have come to marine surveying through a career-change having completed and passed the IIMS Diploma Course. If so, you should be prepared to engross yourself in the technology and language of wooden boats construction and timber technology. There are several ways in which you are able to achieve this. If you have not been involved in building wooden boats before becoming a surveyor, one option for learning the required practical skills and complex terminology is to enrol on one of the excellent courses at various centres which have been established around the UK.
In addition to a course, during which you may also have the opportunity of building your own boat, research will be required in the subject. The internet is one obvious and valuable resource for the research of specific types of yacht construction and their designers, but specialist books are also useful to identify specific changes and periods in yacht design and construction.
Extensive study and research of yacht designers and their designs, which may span periods from the late 1800s to today, should always be ongoing, not least because of the ever changing and rapid advances in boatbuilding technology through the decades. It is important to be familiar with all construction types and have the widest possible knowledge of the marine industry.
If you need help or advice regarding any issues related to a vessel's construction or condition, don't be too proud to contact a senior surveyor at the IIMS for advice and support.
The Surveyor
The marine surveyor who chooses to specialise in wooden boat surveys will ideally already posses a great deal of experience and extensive knowledge of all the various designs and construction methods available to the wooden boatbuilder. A sound understanding of the different nuances of individual designers, both past and present, is also an essential requirement because construction techniques may vary greatly from one designer to another.
When considering the survey, quite a different approach is needed when assessing either an old workboat, a cruising yacht, a famous Traditional Classic yacht or a Modern Classic yacht in the new Spirit of Tradition class.
In today's modern and often "high-tech" marine industry, the Wooden Boatbuilder and Wooden Boat Surveyor are very much specialists in their field. In fact, very often marine surveyors specialising in wooden boat surveys would probably have started their careers as traditional wooden boatbuilders and progressed through the industry to become qualified surveyors. Many, if not all of the Institute's senior surveyors fall into this category and are therefore well placed to offer you support if requested.
The Survey
During the last twenty-five to thirty years, the marine industry has seen a huge resurgence worldwide in building new wooden boats and traditional classic yacht restoration. Visiting an International Wooden Boat Show and regatta or flicking through the pages of Classic Boat magazines indicates that the current trend of traditional and modern wood construction in the UK and abroad seems set to continue for some years. Many of the new boats being built in Europe and the USA are often based on or are exact replicas of classic yacht designs and most likely will be constructed using traditional plank-on-frame methods.
There are many other craft both large and small being built today that reflect modern trends in design and construction. The most notable of this type are the Cedar Strip-Plank and West Epoxy system and whilst the majority of vessels being built this way would be in the 30 to 50 feet range, it is not uncommon now to come across larger yachts of between 70 and 150 feet. In fact, the demand for larger, custom-built yachts of around 80 to over 100 feet has been steadily increasing globally.
Classic yacht restoration has also been a steadily growing area of the industry during the last three decades, especially in England, the United States and Scandinavia. There are many well-known UK wooden yacht designs from all over the country still sailing and more being salvaged from muddy creeks, old sheds and boatyards, bound for restoration. Interestingly, many designs of early wooden cruising yachts would have been based on the lines of robust and seaworthy regional fishing or pilot boats. The Itchen Ferry, Falmouth Quay Punts and West Country Pilot Cutters are typical of these and many examples of this type survive to this day as well as a variety of new-build replicas.
The Contract
Your first point of contact for a survey will of course be from a client requesting that you inspect his vessel for condition in order for him to obtain insurance, or to carry out a pre-purchase survey.
Subsequently, you will ask him to send you details of the vessel via email with the type of survey he requires, along with his contact details and postal address. You will then send him your Terms of Business (TOB) with the costs of your fee and explain the limitations of your survey.
Another possible scenario is that an owner's vessel requires repairs to be carried out and he is contacting you for advice which will necessitate you visiting the vessel for an inspection before agreeing the way forward. Either way, the owner will be looking to you for your 'expert' advice on every aspect of his boat and how you operate your business. This is a crucial stage in any potential business arrangement where you are able to demonstrate your professional skills so that the owner gains confidence in your abilities and track record.
The initial survey may well lead to you overseeing the repairs based on whatever recommendations you have made in your report. On completion of the work, you will then need to carry out a final inspection in order for you to update your report to confirm that all repairs were carried out to an acceptable standard and then signed-off by you.
Most boatyards these days are able to project-manage their own work although in some smaller boatyards, an owner may prefer you to project-manage the work if the yard agrees to this arrangement. In my experience most boatyards are happy for you to be there providing your presence does not impact too much on their schedule
To summarise, your role as a surveyor will usually end when you present your survey report to an owner. It may then continue with you overseeing repairs, or as the project manager responsible for scheduling the work and the budget.
Survey Fees
At the last Large Yacht & Small Craft Working Group seminar, those present were asked whether they invoiced their fees before or after the survey. Surprisingly, most surveyors indicated that they invoiced after the survey. I wonder how many of them have had disagreements with an owner regarding the content of the report they received where the owner had asked for a reduction in the fee or refused to pay at all? Personally, I always send the invoice out beforehand which has to be paid before the agreed date of the survey and, this condition is part of my TOB and I have never had a refusal.
Several years ago, I surveyed a yacht before sending the invoice to the owner and regretted it.
Before the survey, the owner claimed that his vessel was in excellent condition and that I would not find 'very much' to report. In fact, my inspections found several major structural issues which, in the event, he did not agree with even though he shadowed me around the boat all day. He refused to pay my standard fee and insisted on a large reduction. Lesson learnt, hence my upfront payment terms.
You will also need to bear in mind that, if you have been asked to project manage yacht repairs, you must establish whether your PI insurance policy actually covers you for this. Many policies do not so you must check with your insurance provider before agreeing to manage a project for which terms may be agreed separately.
Preparing for the Survey
Having received details of a vessel for survey, research the designer, the builder and the type and age of the craft to be surveyed. You will then form an early mental picture of your project and save valuable time before carrying out your inspections. Many owners like to be present during the survey, which is fine, but they do tend to chat about the boat rather than allowing you to progress unhindered.
There are several types of survey depending on the owner's requirements. If the survey is to assess the structural condition in order to ensure the vessel, the Insurer will usually insist on an out-of-water survey. They will also require the surveyor to provide a valuation and, in this regard, you will need to know the market value of specific vessel designs and types as well as making allowances for the condition and any historical value. One-off designs are much more difficult to value and can be a very subjective issue. However, if the designer is well known, that is a good starting point in pinning down information.
For a pre-purchase survey, recommend to the owner that the craft should be hauled-ashore, pressure-washed and chocked up in a boatyard for at least a week to allow for some flexibility with timing.  Generally, the surveyor should expect that a thirty foot traditionally-built yacht in reasonable condition could take up to two days to carry out a full condition survey of the hull, deck and rig with possibly a return visit to the boat to clarify a particular detail.
Most importantly, the surveyor should not be too hasty to carry out the survey as wooden boats can have many hidden defects which may take time to discover. The surveyor should discuss the schedule with the owner and will also need to consider the time factor when quoting his fee for the Survey Contract.
At first sight of the vessel, try to form an immediate impression of the general condition. Has it been well built and maintained and does the hull planking "look" fair? Walk around the boat several times sighting along its length from different angles. Any apparent unfairness could indicate a bad repair or worse, could be an indication of a structural problem warranting further internal inspection. Check the plank seams. Do they appear regular and tight? Pay particular attention to the bilge and keel areas and note if anything is weeping from the seams. If there are leaks from inside the bilge, such as oil from the engine, this could be serious and has to be inspected further and reported.
Plank ends, known as 'Hood-Ends' at the stem and transom or "Horn Timber", in the case of a vessel with a counter-stern, should be "sounded" with a soft-faced mallet. Dull thuds or bouncing planks are a possible indication of the existence of corroded fastenings or rot and this area should be investigated further with a fine sharp spike both externally and internally. Note all obvious defects and notify the owner that you need to do further exploratory investigations which may include removing external plank fastenings and internal panelling and hull or deck linings.
NB: Always remember that you cannot carry out any destructive testing or inspections without the owner's written consent. If any suspected structural issues require the removal of extensive interior panelling or the removal of hull fastenings, you must report this and ask the owner to instruct the boatyard to carry out the work. Do not do it yourself.
Take a close look at the stem and especially the underside of the keel. Any visible damage here could indicate a grounding at some time and warrant further structural examination of the interior framework for damage or structural movement, especially around the mast-step and partners.
Look closely at the rudder blade for splits, including the fittings for signs of wear and corrosion. Move the rudder from side to side and try lifting it to judge the amount of play in the top and bottom bearings. Closely inspect the rudder-stock aperture through the horn-timber. This is often a weak area in some designs and the existence of hidden rot damage or split timber is not uncommon.
Move to the deck of the vessel and examine the coach roof and deck for fairness, especially around the sheer. The sheer rubbing-strakes should be fair and closely fitted to the hull as should any cap-rails, toe-rails or bulwarks around the perimeter of the deck. There are many structural weak points around a deck especially at the joins between deck planking and covering-boards and at the bases of bulwark frames where they protrude above the sheer.
If the coach roof is painted are there any signs of blistered paint indicating a moisture problem under the coatings? And if varnished, is the timber beneath the clear finish blackened by the presence of moisture which has most likely caused rot damage? On older wooden boats, polyester resin which has been used for sheathing decks and coach roofs is porous and will absorb moisture which, in time, will damage the plywood deck it is attached to. Carefully sound the decks all over with a soft-faced mallet and light hammer searching for areas of sheathing detachment.
Closely inspect for leaks around portlights, windows, deck-hatches and flush deck-lockers and check inside the vessel for staining of the headliner panels, sideliners or ceiling battens which will be sure indications of deck leaks. Cracks in the lenses of portlights, windows and deck hatches should also be reported.
Inspect stanchion, pulpit and pushpit security and the condition of guard wires and attachments.
In a perfect world, inspect mast and spars off the boat on trestles, but if this is not possible, inspect the condition of wooden spars from deck level using a pair of binoculars if necessary and pay particular attention to the heel of the mast, whether it is deck or keel-stepped. Keel-stepped wooden masts are very prone to rot damage especially if the bilges are allowed to stay wet. Prod the mast heel with a sharp spike to test for softness. Inspect all standing and running rigging for damage and general condition, including the condition of the chain-plates and bolts. If you discover any issues with the rig and do not feel qualified to make recommendations for servicing or repairs, your report should always recommend that the owner has the rigging inspected by an experienced and competent rigger. Many insurers insist that stainless standing rigging is replaced every ten to twelve years and you will need to check the owner's boat-file records for when this vessel's rigging was replaced. A word of warning. If the mast is stepped with the vessel ashore, do not be tempted to go up the mast for inspections. If you are on your own, this advice should be obvious and many insurers will not cover you anyway if you have an accident.
During the interior survey, thoroughly inspect the hull planking and frames, the bilges around frames and deep-floors for cracks or breakages and pay close attention to the condition of all visible fastenings especially the keel bolts. Inspect all metal floors and knees for corrosion and thoroughly examine engine beds and longitudinals.
Examine and test all through-hull fittings, seacocks, hoses and clamps. Hose connections to thru-hull fittings below the waterline should always be double-clamped. Double-check anti-syphon valves in heads inlet and discharge hose loops as the valves in some patterns often stick or clog.
Inspect the engine, engine mounts and check for leaks from fuel or water tanks and plumbing.
Inspect the electrical systems including navigation lights, battery installation, charging systems including shore-power and battery management system.
Inspect all safety equipment including anchors, the windlass for security of installation, ground-tackle, lifejackets, liferaft and distress flares for condition and inspection dates.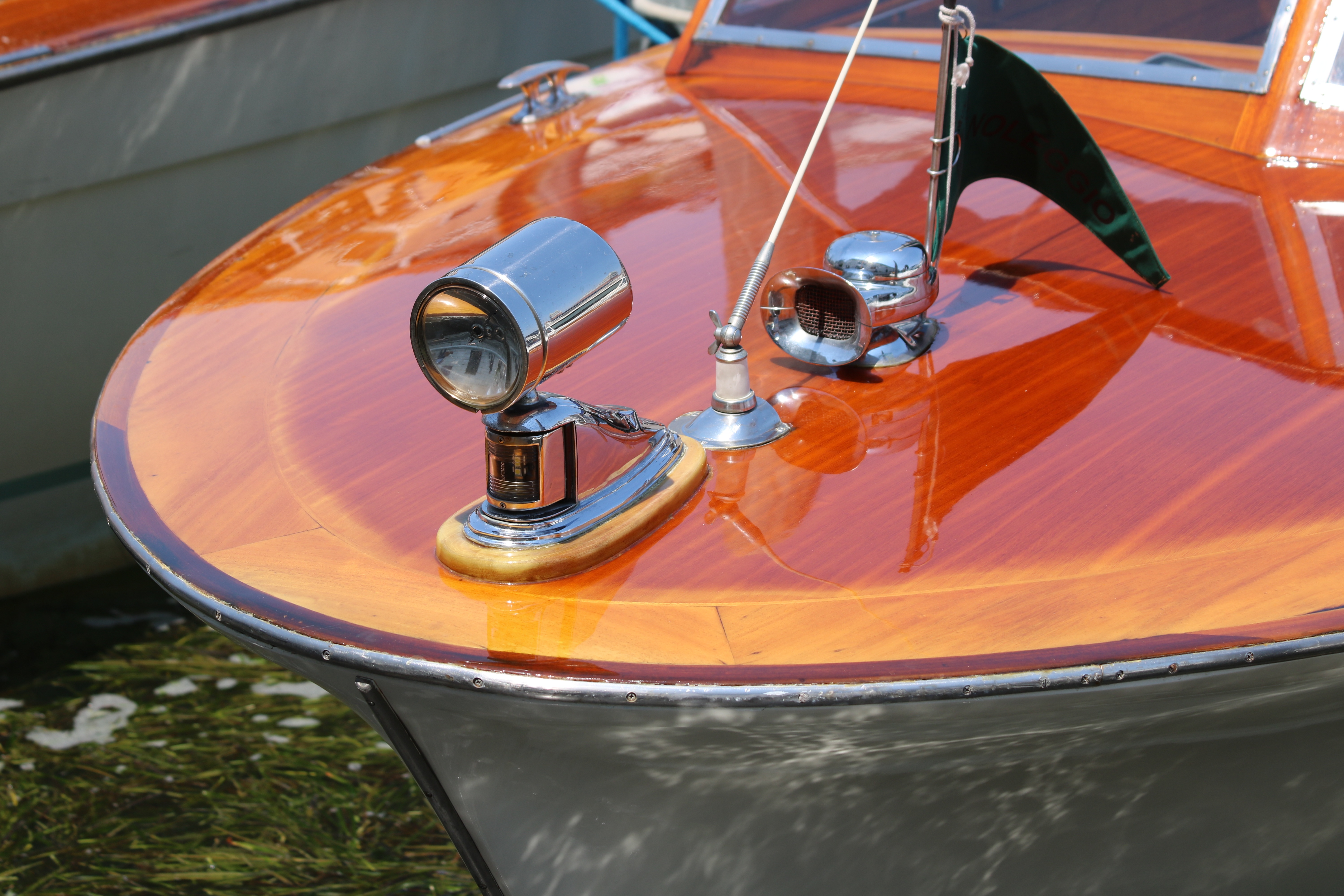 Regarding keel bolts, most wooden sailing vessels have external ballast bolted to the hull which may have been cast from iron or lead. Typically, cast-iron keels have wrought-iron or stainless bolts and cast lead keels more often than not have bronze bolts. Check with the owner when the bolts were last inspected or replaced and if this information is not available, then, depending on the size of the vessel, recommend that two or more bolts are withdrawn for you to inspect. Only when you are satisfied that the bolts are in a sound condition should you sign off the report.
Some of the tools you will need are listed below:
A digital camera, measuring tapes, soft-faced mallet, bradawls and a long fine pointed spike.
Small hammer and scraper and a good torch.
A good moisture meter is useful as long as you understand what it is for. If a deck is sheathed with porous polyester resin, the meter can highlight a problem with the plywood deck. Or, if you are checking planking to determine the moisture content with a view to splining the seams it is an essential piece of equipment. If not, then leave the meter at home.
Words of caution when going to a lonely marina in the winter to carry out a survey.
Always check-in at the marina office and tell them where you will be.
You will most likely have taken your own boarding-ladder to access the vessel. Make sure that you lash the ladder to a winch or cleat because you would be surprised how many owners will simply walk off with your ladder to access their own boat.
The Report
This is probably the most important thing you will ever write in your surveying career. It is a legal document that not only describes the condition of the vessel you have recently surveyed, but it will be an indication to the reader that you actually know what you are talking about. At best, it will make your client happy and, at worst, it could land you in court if you get it wrong.
Report only the FACTS of what you have inspected and discovered during your inspections and NEVER assume any aspect as to the causes of damage or degradation without having sound evidence to support your findings. A picture really is worth a thousand words but only if it is relevant to demonstrate a point and is supported by your detailed explanations of a problem and 'likely' causes.  The IIMS runs excellent seminars on report writing and has published a handy guide on the subject.
Duty of Care
Your first duty of care is to your client. He must be kept informed of every aspect of what you are doing and will expect you to advise him on remedies for whatever issues you discover.  Therefore, whatever recommendations you make in your report for repairs or servicing in your report must only be made on the basis of factual and sound advice.
For further information on surveying wooden boats, see our helpful Handy Guide: 'What a Marine Surveyor needs to know about surveying wood craft'
By Mike Andrews
Mike Andrews, based on the UK south coast has been involved in building, repairing and inspecting wooden boats for many years and is regarded as something of a specialist and expert in this area of surveying. Additionally, he has served a term as a member of the IIMS education committee. Whilst many surveyors in the UK are wary of wood and its importance has increasingly diminished in the UK in favour of GRP, it remains an essential construction material in many parts of the world. In this feature length article, Mike shares his passion for wooden boats and his extensive knowledge as he presents a step by step masterclass about the things a surveyor should know when surveying wooden boats.